Exterior
This building fits like a puzzle piece into the campus. It ties into the existing cafeteria building and creates a plaza with the existing library. Its internal programs: bookstore, commons, existing cafeteria, conference rooms, and student offices are housed in geometric forms also fitting together like spatial puzzle pieces.
Beacon
The 'prow' of the Student Union acts a beacon from the main drop off of the campus.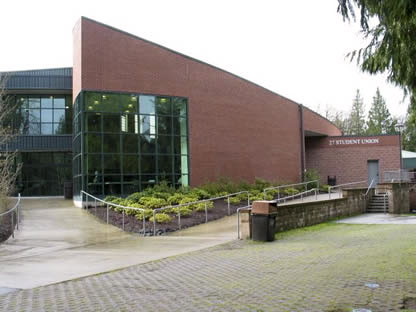 Plaza
A plaza was created to enhance the Library entrance and created the opportunity for outdoor activities.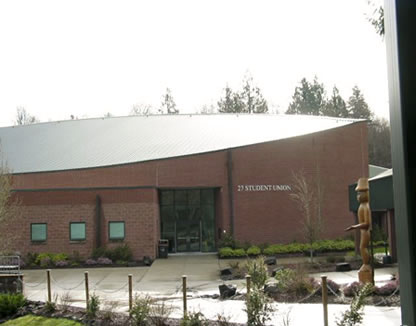 Interior
The main programs are interconnected. The student offices overlook the bookstore and cafe. The cafe fronts the bookstore. In floor power and data are in place ready for information kiosks to assist the college with events and student enrollment week. Large windows and lightly painted walls infuse the spaces in natural light.
Armature
The building was funded in large part by the students. As such, the architecture of this building acts as an armature for student whimsy. Student Office Reception overlooks the 'Concourse.' Flags are changed out by students depending upon activities and desired atmosphere.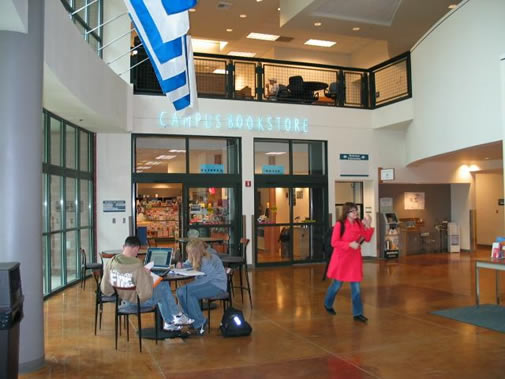 Unprogrammed space
This space was seen as an opportunity to give the bookstore added exposure. This 'Concourse' doubles as a cafe and exhibit space between the Bookstore and 'Commons.'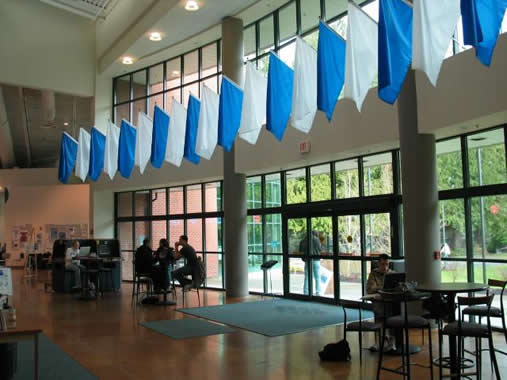 Commons
Large enough for dinner events and with a performance platform, the 'Commons' is open to the cafeteria allowing it to expand the Cafeteria. An operable wall
closes the cafeteria for more formal events.